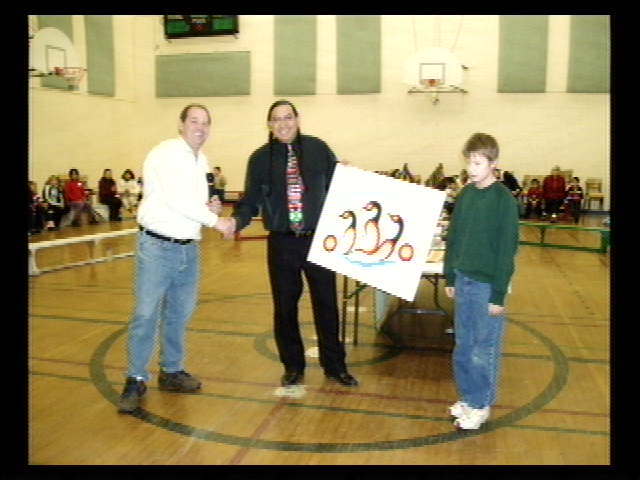 BIO of
Treffrey Deerfoot
706 – 27 Street, North
Lethbridge, Alberta
T1H – 3W7


My name is Treffrey Deerfoot Aissikotoyomaahkaa (Deerfoot) who was born with the last name Yellow Old Woman. On September 14, 1992 my grandfather Edward Yellow Old Woman (a rodeo legend) requested that I take on the name of our ancestor Deerfoot. I humbly respected his wishes and took the advice to retrieve the name through traditional practice. In that journey, the Siksika Elders acknowledged my efforts by inducting me into the headdress society.

In receiving the Deerfoot name I wanted to see the emerging generations of aboriginal youth grow up with the options for success. In May, 1992 I was inspired to coordinate a run " Petro Canada Deerfoot Run" to raise funds for a foundation to assist Aboriginal athletes.

I have many accomplishments so far which are; a football scholarship, Canadian military officer, chairman of major Aboriginal organizations, active force for the self government process of Siksika Nation, achieved and continuous in university studies and excel at a high level in many different sports.

I am a member of the Siksika Nation of the Blackfoot Confederation. I was raised by grand mother who encourage us to have faith in the Creator and the patience and perseverance to pursue our dreams. As a result, I am very much attached to my native heritage and spirituality. My first language is Blackfoot a form of communication that is the essential means by which culture is learned.

Today, I am writing four creation stories that introduce place and identity in the culture. My hopes are to demonstrate an awareness that creation stories reflect spiritual connections to the land. Also, that traditional Aboriginal stories on creation inspire young people to recognize their gifts and understand that ceremonies have strong spiritual and social significance. Whenever the opportunity presents itself, I actively participate in cultural ceremonies and social gatherings. At these functions, I make a point to encourage the youth by promoting pride in their roots, their heritage, and their spirituality. Some of my other works are outlined in chronological order from a young dancer to present.


1967- World Expo Seattle Washington, on behalf of the Calgary Stampede promoted the Blackfoot Prairie Chicken Dance style.

1988 – Performed at Winter Olympics in Calgary Alberta, Showcasing the plains culture and heritage through dancing.

1990-1996 - Did modeling for several different designers and was showcased in the Calgary Sun in 1993.

1992 – Coordinated 20 people from Treaty 7 First Nations to tour Italy, in conjunction with Christopher Columbus 500th Anniversary of landing on America.

1992 – In the past 15 years, I have had parts in a number of movies and television series. Most were as an Aboriginal Rider or as an extra. The films I have been involved with are: Lonesome Dove, 1994, Last of the Dogmen, 1995, Dreamkeeper, 2002, Little House on The Prairie, 2004, Into the West, 2004.

1993 – Won AMPA award, (Alberta Motion Picture Industry Award) for documentary produced (Dancing in the Wind).

1993 – Co-wrote a play with my father, Fred Yellow Old Woman based on Blackfoot Oral History. It's the foundation for the four books that I am writing.

1993 – I was the founding organizer and coordinator of the Deerfoot Run. An event that creates funds for athletic, educational and mentor programs for First Nation Youth.

1994 – Toured Southwest States of America to promote CP Hotels (Canadian Pacific) Dance Tour.

2001 – Feature dancer at the World Track and Field Games in Edmonton, Alberta.

2004- I was the spokesperson at Manitou Island for a delegation that brought the Prairie Chicken dance to Manitou Island.

I feel very fortunate to have so many interesting life experiences. My achievements are patterned after footsteps that my grandparents have laid for me. For this, I am very thankful to the Creator who blessed me with a uniqueness and a beautiful family.